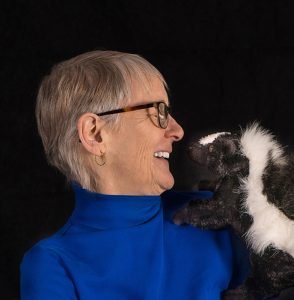 I was an outdoor child – biking, swimming, endless nights of tag, hide-and-seek, and touch football. My book reading occurred at night, snuggled in bed, the light on past midnight, telling myself the lie, "Just one more chapter."
My love of picture books became deep and enduring in my early twenties, when I taught in a preschool (though teaching toddlers is more like being a Maypole, something to dash around and occasionally hold onto). That love continued to grow when I became a mother, and then a grandmother, reading aloud, and never minding repeating our favorites.
Half my lifetime ago, six of my books were published by Children's Press, now an imprint of Scholastic. Four titles were part of their Rookie Reader series: Too Many Balloons, I Love Cats, Over-Under, and Out the Door. Two nonfiction titles: I Can Be a Police Officer and I Can Be a Computer Operator were included in their career series. In 2004, two of the fiction books were chosen as part of a 3-book boxed edition.
While starting a business near Portland, Oregon, with my husband, Stewart Jones, nearly thirty years ago, then relocating to rural Joseph on the eastern side of the state, I continued to work on my manuscripts in the quiet moments.